En résidence du 30 octobre au 12 novembre 2023, du 26 février au 10 mars et du 27 mai au 31 juillet 2024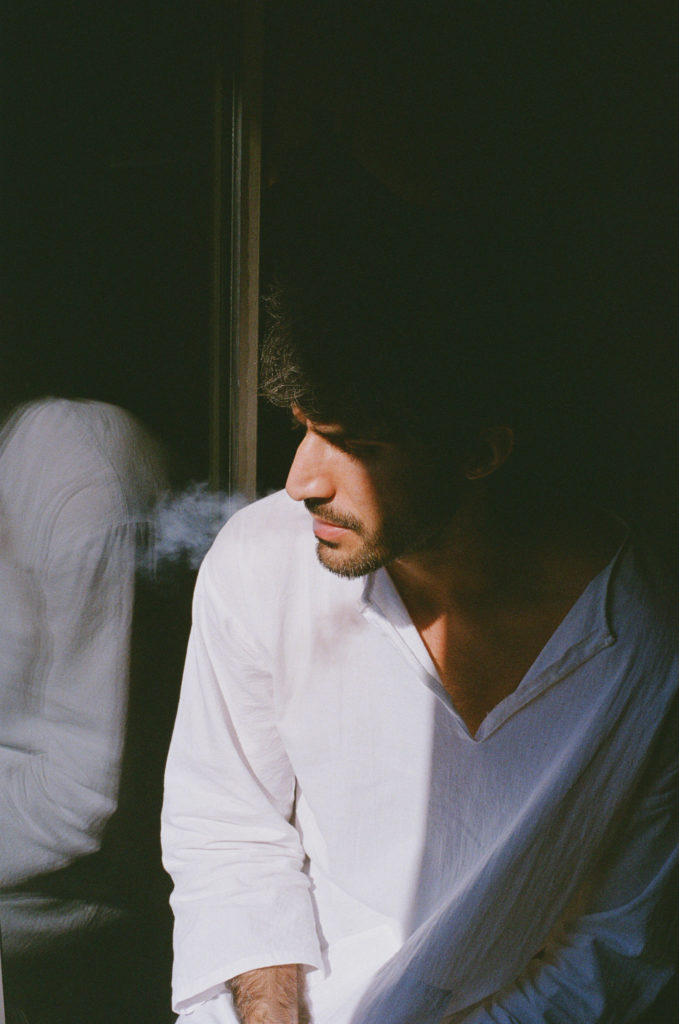 Behzad Azadi
Writer & Director
Kurdish – Iranian
My name is Behzad Azadi, a Kurdish Filmmaker, and I was born In 1990 in Shahindej, a small town near the Iran-Iraq border. I've grown up with a Kurdish background, which has ignited a deep interest in the arts, film, and politics in general. KOSHTARGAH, my graduating short film at the Art University of Tehran, was selected at the Cannes Film Festival in 2015. And in 2021 I was invited to the Cinefondation residency. After returning to Iran in times of protest under the slogan;" Woman, Life, Freedom" I had to flee Iran to come back into the Cité des Arts residency in Paris and announce myself as an Asylum in France.
Three Sisters
Cases of "honor killing" often are the result of betrayals of a husband and wife, but in the case of Mahsa, Mehtab and Laden, simply trying to achieve their natural right in life and defying ethnic and archaic patriarchal rules brought them death. At that time, this video was a big shock for the people of Iran. A push for the awakening and alertness of families and young girls who always live in fear in Iran. However, even many years later we still see honor killings in Iran. It is clear that the root of this type of ignorance and violence against women in Iran still continues. Women who are always in anticipation of a horrible event because they know that their communities cannot be trusted, especially in deprived areas which have always been deprived of knowledge and education. Young Iranian girls are forced to marry, stop studying, their lives are under pressure, suffocation and danger, both through their families, the surrounding society and the Islamic regime.
The story of THREE SISTERS is inspired by the true story of three sisters who were victims of such honor killings in Iran. Since such families are never willing to cooperate in making a documentary film, I started to imagine and by researching and asking about their lives, I came up with a story inspired by the real death story of Mehtab, Mahsa and Laden. On the other hand, the actual video of this incident recorded by Mehtab has the effect of a long documentary in itself. The importance of imagining them is that the three sisters can be imagined as a symbol of all the innocent women and girls of Iran who are trying to florish their talents and change society as a whole. They defy the prevailing archaic society because they can no longer bear the burden of oppression and they lose their lives for their natural right. The clear manifestation of the widespread demonstrations of the women's revolution in Iran with the slogan « woman, life, freedom » clearly shows that women in Iranian society want to change the situation urgently. They want to pull out the roots of oppression of the religious and patriarchal society, so that women in Iran can get their natural rights forever.
The movie THREE SISTERS undoubtedly walks in the same direction.
Farhad Sayadi, the killer, who was previously sentenced to life imprisonment for the crime of drug and arms trafficking, has described the reason for killing his daughters to journalists as lack of money and to avoid dishonor. For me, this reason was not convincing until I researched more about him and found out that already his father was a murderer because of his patriarchal prejudices. – Farhad Sayadi, a man at the end of the road: his bad record in prison and even before, his failed and unpleasant experience in his marriage and the psychological effects of many years of drug abuse. He took drugs and saw killing his daughters as an easy and restrained matter.
Generally, those men in Iran, who see everything lost, are either in prison forever, or hopeless and depressed, in absolute poverty and dependent on drugs. Anything is possible for them as they are on the verge of committing suicide. And there is a famous saying among smugglers, « If you see everything lost, you don't even have a penny in your pocket, keep your honor to survive. » Safar (Farhad Sayadi), the killer father in the story of THREE SISTERS, is not a symbol of all Iranian men, but a symbol of bigotry and archaic patriachal structures, anger, poverty, addiction and despair, he shares with many men in our world today. They might live everywhere. Every day we see news of honor killings or family killings from all over the world: In Pakistan, India, Afghanistan and others. Family crimes in America may have different 'reasons', but are still the same crimes.
As a Kurdish filmmaker, I start with my criticism from my own community and extend it to the world. Farhad Sayadi, the killer of his daughters, was a Kurdish man from Kermanshah, Iran. He died from a heart attack in 2022 in Kermanshah prison, exactly one day before the end of his life sentence, and never saw the light of freedom again.
During the Arab Jahili period, men buried their daughters alive in order to preserve their reputation in their society.