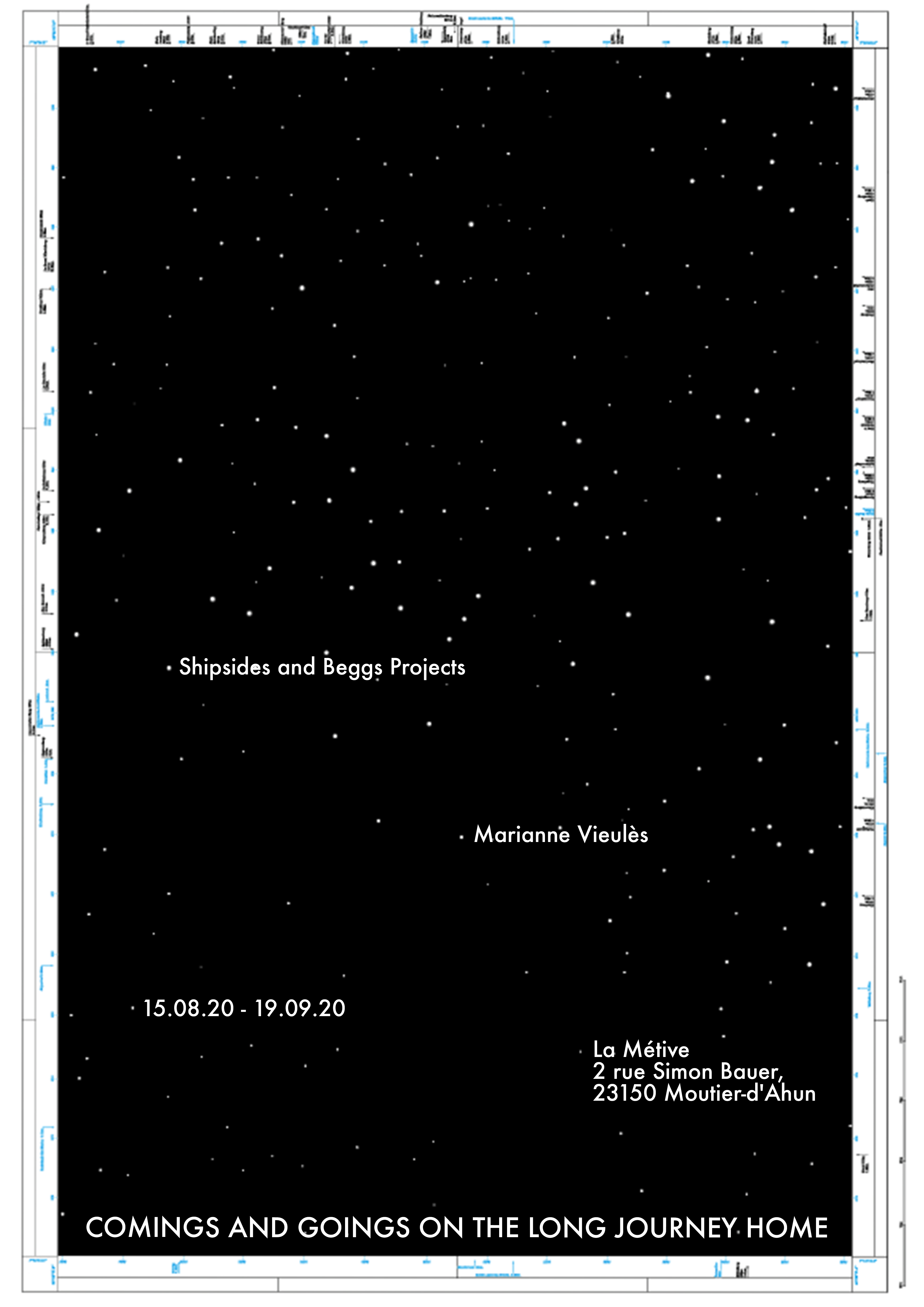 Date
15 Août 2020
- 19 Sep 2020
Heure
18 h 00 min - 18 h 00 min
EXPOSITION  « ℂ𝕠𝕞𝕚𝕟𝕘𝕤 𝕒𝕟𝕕 𝕘𝕠𝕚𝕟𝕘𝕤 𝕠𝕟 𝕥𝕙𝕖 𝕝𝕠𝕟𝕘 𝕛𝕠𝕦𝕣𝕟𝕖𝕪 𝕙𝕠𝕞𝕖 » – Marianne Vieulès & Shipsides and Beggs Projects
EXPOSITION  « ℂ𝕠𝕞𝕚𝕟𝕘𝕤 𝕒𝕟𝕕 𝕘𝕠𝕚𝕟𝕘𝕤 𝕠𝕟 𝕥𝕙𝕖 𝕝𝕠𝕟𝕘 𝕛𝕠𝕦𝕣𝕟𝕖𝕪 𝕙𝕠𝕞𝕖 »
Exposition du 15 août au 19 septembre 2020
Shipsides and Beggs Projects & Marianne Vieulès
Vernissage le 15 août 2020 à 18:00
Commissariat : Jean Bonichon
exposition visible du mardi au samedi de 14:00 à 19:00 jusqu'au 12 septembre puis de 14:00 à 17:00 jusqu'au 19 septembre.

Marianne Vieulès, «astronaute indépendante», livre depuis 1993, dans un récit à l'ironie cosmique, les étapes de son entraînement en vue d'une impossible conquête de l'espace. Suite à des études d'ingénierie aérospatiale et d'électronique pour artiste à Montréal, elle développe une pratique multiple, réalisant entre autres jeux sans joueurs, machines animées et poésie numérique. Parallèlement à ses différents départements de production, elle se concentre sur la réhabilitation des femmes de l'histoire de l'informatique, sur la redéfinition des droits d'auteur et une reconstruction d'internets. À ce jour, elle vit et travaille toujours sur Terre.
à propos de Marianne Vieulès (actuellement en résidence à La Métive)
https://lametive.fr/project/marianne-vieules-arts-numeriques-et-poesie/
About Shipsides & Beggs : Dan Shipsides and Neal Beggs have been collaborating since 2003 under the name Shipsides and Beggs Projects. Initially their collaboration mined and developed their passion for climbing and mountaineering as a way of exploring the intertwined notions of life, adventure, culture and society – but since then their interests have bled over to many topics, genres and forms of working across music, painting, drawing, print, video, installation and sculpture. Whilst no longer exclusively focused on climbing, their co-practice exploits the climbing dynamic established between two individuals, where being joined through necessity by a rope, becomes a creative model for developing art and sharing life. This activity enables a pattern where adventures and misadventures form the backbone of their creative process and conversation. Their practice does not aim towards a unified voice but instead an oscillating set of ideas and outcomes, at times shared and at times disparate and beyond one's control. Through this the work embraces wide sets of interests and activities, from music to mountains to madness and magic making their practice not solely the tale of two climbers who became artists. Shipsides and Beggs Projects have exhibited nationally and internationally including; in France; La Cuisine, Nègrepelisse (The Lament of the Accolade Tree), Chateau Gontier (Gothic Cinema) and CIAC, Carros (Frontiers & other songs of Freedom), in Belgium; Aliceday Gallery (Vigil | Star) and L'Orangerie, Bastogne (Still Not Out of the Woods – Zombie Line), in Italy; Microclima / Catalyst Arts (Venice Biennale collatoral – The Iron Way), In Australia; ACCA, Melbourne (Desire Lines), in Ireland: at Tulca, Galway (The Hanging), and the UK at The MAC, Belfast (Still Not Out of The Woods). Shipsides, based in Belfast, teaches at the Belfast School of Art at the Ulster University. Beggs, based near Nantes, teaches at the Bourges School of Art, France.